Introduction
Just a friendly public service announcement. It feels like nearly every other day there is a new earn & learn on Coinbase, they have added a new one Graph (GRT).
Learn how it works and you'll earn up to $3 in GRT tokens.
First of all, to earn, you need to verify your account and see if your country is eligible.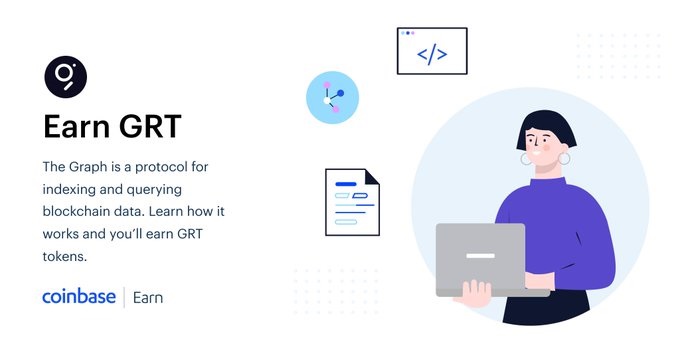 "Live in a country eligible for Coinbase Earn. Eligible countries are:
Austria, Australia, Belgium, Bulgaria, Canada, Croatia, Cypress, Czech Republic, Denmark, Estonia, Finland, France, Greece, Hong Kong, Hungary, Iceland, Ireland, Italy, Japan, Latvia, Liechtenstein, Lituania, Luxembourg, Malta, The Netherlands, Norway, New Zealand, Poland, Portugal, Romania, Senegal, Singapore, South Korea, Spain, Sweden, Switzerland, Taiwan, The United Kingdom, and the United States. We are working hard to add more eligible countries soon"
Head over to the Coinbase site, log in and go to the earn sections to find the videos. There are 3 videos, well not really videos now more like move images with text (1mins each), with questions each giving $1 of GRT.
This is how the first video and lesson looks
Second video and lesson
Last video and final lesson
Complete there three lessons and you will earn 3 $ worth of GRAPH (GRT).
Share in the comments if you already have the Graph (GRT) Coinbase Earn quiz answers.
Answers added: New on Coinbase: You can now earn $3 GRT for free by watching three presentations and taking the quiz (answers below):
Blockchain data
GRT token
Curators
Meanwhile you can earn more with:
BAND $43 – https://coinbase.com/earn/band/invite/pycszmn3
Answers:
Real World Data
Oracles
Earn crypto rewards
COMPOUND $59 – https://coinbase.com/earn/comp/invite/758kfgcd
Answers:
Earning interest on your crypto.
Supply a crypto asset as collateral.
COMP token holders.
XLM $50 – https://coinbase.com/earn/xlm/invite/dm02r9v7
Answers:
Stellar is a decentralized coin that unites currencies.
Facilitating low cost, universal payments.
Fast, secure and global.
To issue and exchange tokens quickly.
It relies on a cooperation of trusted nodes.